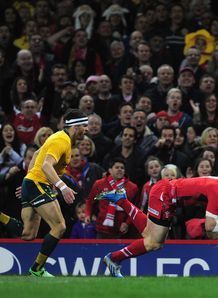 Wales are the only movers in the latest IRB World Rankings as they fell one position to sixth following a 30-26 loss to Australia in Cardiff on Saturday.
With only three Test fixtures over the weekend, the focus was on the pulsating encounter between Wales and the Wallabies at Millennium Stadium.
Wales' ninth straight defeat to Australia means their ranking points total falls 0.79, allowing France, to go fifth thanks to an unchanged total.
IRB World Rankings
(Old position bracketed)
1(1) New Zealand 93.81
2(2) South Africa 89.34
3(4) Australia 86.09
4(3) England 85.70
5(6) France 80.87
6(5) Wales 80.19
7(7) Ireland 79.33
8(8) Samoa 77.34
9(9) Scotland 76.56
10(10) Argentina 76.44
With thanks to the IRB