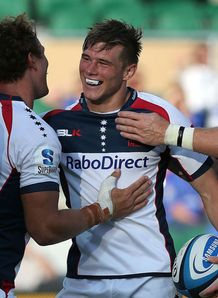 Melbourne Rebels full-back Jason Woodward hopes to take another step towards playing for the Wallabies when he plays in his second Super Rugby season in 2014.
The New Zealander must play in Australia for three successive seasons to be eligible for Test selection and he has no plans to move from Melbourne.
The Rebels will no doubt do their best to reatain his services when his contract expires at the end of next year.
News of Woodward's Wallaby hopes will not be well received in New Zealand where Woodward was once rated a future All Black.
But although he grew up wanting to play for the All Blacks and played for their U20 side in 2010, he is now focused on representing Australia.
"Being a Kiwi boy I obviously wanted to be an All Black my whole life and that doesn't go away just because you move overseas but I've been loving life," Woodward told AAP.
"My wife and I have really set up home here and I love playing for the club and if I was to stay I would play for Australia, without a doubt."
Woodward was a keen observer during the Wallabies' impressive European tour and liked what he saw.
"They've definitely come right and are getting their combinations sorted and under the new coach have hit their straps," he said.
"I think they will be a big challenge for the Springboks and the All Blacks next year."
The 23-year-old will be a key player for the Rebels in 2014 especially after losing back-line stalwarts like Kurtley Beale, James O'Connor, Cooper Vuna and Richard Kingi.
Noted for his big boot, Woodward is set to take over the goal-kicking duties which Beale and O'Connor previously managed.