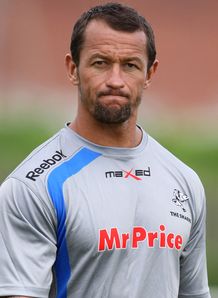 Former All Black fly-half Carlos Spencer claims New Zealand's dominance of world rugby is due to a dip in Test standards.
New Zealand recorded rugby's first international "perfect year" in the professional era, having come back from a 22-7 deficit against Ireland on Sunday to win 24-22 and seal their 14th win from 14 games in 2013.
While recognising that achievement, Spencer was keen to stress the record was thanks more to poor opposition rather than greatness.
"I don't want to take anything away from what New Zealand have achieved," Spencer told Gulf News.
"But three or four years ago Ireland would never have let the All Blacks come back and win that match. It just goes to show where world rugby is at the moment.
"Australia are nowhere near the force they were, the same as Wales and France. Apart from England and South Africa, no-one else excites me."
The former pivot believes the sport should do more to boost its popularity and entertainment value, claiming he feels somewhat disillusioned by Test rugby in its current form.
"Whether everyone is playing too much rugby, I don't know, but it just doesn't look like anyone is that excited to play Test rugby anymore," added Spencer.
"The competition needs to change to put bums back on seats and make it more exciting, because at the moment I think people are getting just a bit bored of it all."