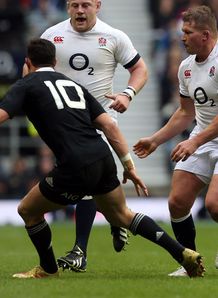 England and Northampton hooker Dylan Hartley believes he is "coming of age" after his solid performances during the November internationals.
The 27-year-old, who is captain of the Saints, has bounced back from his red card against Leicester in last season's Premiership final at Twickenham.
"I think I'm coming of age. I heard a hooker's prime is 29, 30 years old," he told BBC Radio Northampton ahead of their clash at Worcester.
"I'm enjoying it. I like my role at the club and I love being captain.
"I love being part of a good group of people," added the 50 cap international forward.
"It's a group striving to win trophies and turn up every day and train hard.
"Certainly in the England setup it's very much a mirror image of what we've got here."
Northampton Saints are currently in much better shape than last year when they went on a dismal run of five losses in seven matches, with Hartley pleased with their solid form.
"This time last year we lost a lot of games. The squad wasn't as united as we are now but we still made a Premiership final," said the hooker.
"This year we have the right talent, the right coaching setup. Everything's perfect. So there's no excuses for us not to perform."