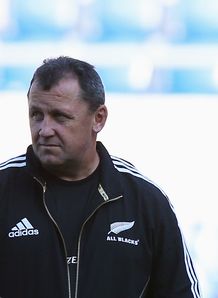 New Zealand assistant coach Ian Foster has stated that the All Blacks are showing no signs of fatigue before facing Ireland.
The All Blacks were stunned 38-21 by England in their final match of 2012 to lose their unbeaten record for the year.
Aiming to go for 14 wins from 14 matches in 2013 at the Aviva Stadium this weekend, Foster revealed that the events of last year at Twickenham had been discussed.
"Obviously we have discussed what happened 12 months ago," said Foster.
"There is no room for complacency or surprises and we can't use those as excuses.
"We're amazingly fresh for mid-November, we're in great health and in good form.
"We're in really good heart so complacency and fatigue will be out the window as excuses.
Commenting on the build-up surrounding New Zealand's quest to end 2013 with a perfect record, Foster underlined that facing Ireland was just another game.
"It's boring press but for us this game is just the next one, nothing more," added Foster.
"We're really pleased with the first two results but we're not happy with the performances.
"We're ambitious and we are still chasing that great performance. So this match, for us it is not relevant that it is either the last Test of the year or that the opposition is Ireland."
New Zealand will be without fly-half Dan Carter after the all-time leading Test points scorer injured his achilles in his 100th appearance for the All Blacks last weekend - meaning Aaron Cruden or Beauden Barrett will step in.
"Aaron has been a big part of this season while 'Beaudie' has been simmering away behind the scenes," stated Foster.
"Cruden can be very satisfied with his year as he has started a fair amount of Tests and run the games really well, especially the first Test of the Rugby Championship against Australia (which the All Blacks won 47-29 in Sydney in August)."