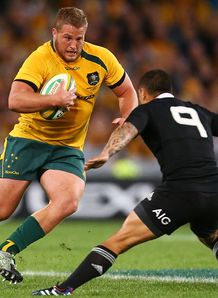 Australia prop James Slipper, one of 17 players not to stay out late in Dublin last week, believes the Wallabies' stance is fair.
Five players have been dropped for this weekend's match against Scotland in Edinburgh due to staying out beyond midnight and drinking excessively, with Paddy Ryan suspended for next week's match against Wales.
Reflecting on his personal decision to stay in rather than sample the highlights of Dublin's Temple Bar area last Tuesday, Slipper stated that at the end of the day the Wallabies were in Europe to do a job.
"At the end of the day, we're here for one job only and that's to win games on the weekend," said Slipper.
"Personally, I had my dinner and I had trained very hard that day [last Tuesday] and sleep was a number one factor in my decision. To win a game against Ireland is something which is hard to do in Dublin, and I thought it was very important to do."
Looking forward, Slipper believes the approach regarding alcohol will benefit Australia in the long run as they look to close the gap between themselves and the world's top sides including New Zealand, South Africa and England.
"It's just about fixing our bad decisions that we've been making and obviously the decisions we make should be prioritised towards winning the game on the weekend," added Slipper.
"Performance has to come first and Link [McKenzie] has put procedures there that there's no grey area anymore and that's where everyone has to be on their toes and prepare for each game.
"It's pretty well known that [alcohol] doesn't really help with your performance. In any sport it's the sacrifices that separate the good from the very good."