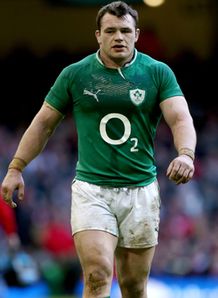 Related links
Teams
Also see
Ireland loosehead prop Cian Healy believes the competition for places in the national starting line-up is healthy for the squad.
Healy's Leinster team-mate Jack McGrath started in the number one jersey on Saturday, and won the man-of-the-match award as Ireland overcame Samoa 40-9 in Dublin.
And with Healy having sat out the opening fixtures of the season through injury, the more experienced prop knows his 24-year-old rival is laying down a challenge.
"It's been great watching Jack because when he got included he just constantly plugged away and working on the finer details. He has constantly plugged away at it, wants to learn and asking for stuff," Healy told the IRFU website.
"Then we are put together in the gym or we are with each other in scrummaging, we're tagging in and out. We are constantly learning off each other.
"It is not like I'm not learning anything off him as well. We are bouncing things off each other and what to do different week in and out. It's a nice little team we are getting up."
"Yeah, bloody right," continued Healy, when asked if McGrath's rise to prominence was generating some competition between the pair, "but that's healthy. I'm hoping that is going to push me in my game as well.
"When there is someone that good around as well, you've got to be really on form. If you slip up with how you are playing there is someone there to step in."
Healy is also aiming high this November, as Ireland follow up that win over Samoa with consecutive clashes against Australia and New Zealand at the Aviva Stadium.
"(We're taking it) game by game. We are going out to win them all," said Healy.
"It is not about hoping to do well against Australia and hoping to maybe come close to New Zealand. We are a team that look for success in everything, so the best way to take that is game by game.
"(We're going to win by) sticking to our plan. We have been guilty of getting into a rut and trying to pull magic out and that is when you fall short of what you are trying to do.
"We have been fairly sharp on our detail and looking for those small things. We are pretty happy that if we stick to that we will be alright."