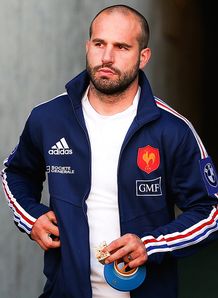 Related links
Also see
France have called up Toulon playmaker Frederic Michalak and Montpellier flank Fulgence Ouedraogo for next weekend's Test against Tonga.
Veteran Michalak joins the 30-man squad announced on Sunday in place of fly-half Camille Lopez, while Ouedraogo has recovered from the shoulder injury that kept him out of Saturday's 26-19 defeat to New Zealand.
Ouedraogo takes the place of Toulon centre Maxime Mermoz.
Head coach Philippe Saint-André said that he had "150 percent" confidence in his squad and underlined his "pride" in his players despite Saturday's narrow loss to the All Blacks at the Stade de France.
"Frederic Michalak replaces Camille Lopez, who has to appear before the [French league's] disciplinary commission on Wednesday and we cannot prepare for the game with only one fly-half," Saint-André said on Sunday.
Saint-André said France paid the price for failing to covert their try-scoring opportunities against the world champions.
"Statistics say they must be the best team in the history of rugby. They are very clever; very, very intelligent. We were close to the line so many times, then they get two opportunities and score two tries. Obviously we're disappointed because, particularly in the first half, there were opportunities there."
For Saint-André it was just another one that got away in a year which has seen them win just once in nine matches and lose four times to New Zealand.
"I think about the record they're on, they played 31 games, won 29, drew one and lost one, so it must be the best record in the history of rugby," he said about the All Blacks.
"We showed a lot of character, everything, but they're very clever; very, very intelligent; we were six, maybe 10 times very close to their line. But then they had two opportunities and scored two tries.
"We must congratulate them and we carry on and work harder to be a little better because when we scored we were penalised straight away, so it's the little details in key moments."
Forwards (17): Vincent Debaty (Clermont), Yannick Forestier (Castres), Benjamin Kayser (Clermont), Dimitri Szarzewski (Racing-Métro), Nicolas Mas (Montpellier), Rabah Slimani (Stade Français), Alexandre Flanquart (Stade Français), Yoann Maestri (Toulouse), Pascal Papé (Stade Français), Sebastien Vahaamahina (Perpignan), Thierry Dusautoir (Toulouse, captain), Bernard Le Roux (Racing-Métro), Yannick Nyanga (Toulouse), Wenceslas Lauret (Racing-Métro), Fulgence Ouedraogo (Montpellier), Damian Chouly (Clermont), Antonie Claassen (Castres)
Backs (13): Jean-Marc Doussain (Toulouse), Jonathan Pélissié (Montpellier), Morgan Parra (Clermont), Frederic Michalak (Toulon), Remi Talès (Castres), Mathieu Bastareaud (Toulon), Gael Fickou (Toulouse), Wesley Fofana (Clermont), Florian Fritz (Toulouse), Maxime Médard (Toulouse), Sofiane Guitoune (Perpignan), Brice Dulin (Castres), Yoann Huget (Toulouse)