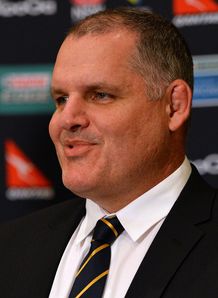 Related links
Also see
Wallaby boss Ewen McKenzie said the seven tries his men scored in Saturday's 50-20 win over Italy is a sign of what they are capable of.
An understandably relieved McKenzie praised his charges who had delivered a far more convincing all-round performance than they did the week before when England had their number.
"We showed some potency in attack and worked hard through the game to score those points," he said.
"So there was consistency there, and we had to work hard in defence at different times."
He was equally impressed with the way his men responded to the early pressure they were put under by the passionate Italian squad.
"It was a really good scoreboard for us, particularly being ten nil down - the guys worked through that and even in the end there we showed some character," he added.
Wallaby skipper Ben Mowen, who's smile after the match reflected that of a player who had just scored his first Test try, was pleased with the calmness that was evident in the team when they were on the ropes early on.
"An error here and there cost us, but we knew there was plenty of footy to go and we were patient," said Mowen.
"We struck back straight after that with a couple of quick tries. That really swung the momentum."
Australia take on Scotland in a fortnight before finishing one of the most disappointing years in their recent history with a clash against Six Nations champions Wales.