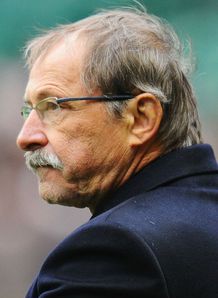 Italy coach Jacques Brunel believes poor defence lies at the heart of his side's 50-20 hammering against Australia on Saturday.
The Azzurri could not have asked for a better start as they raced into a 10-0 lead in the opening quarter thanks to a try by Australian-born Luke McLean.
However, it wasn't long before Australia, who were hurting from last week's defeat to England, bounced back and started exposing some of the inneficiencies in Italy's line-up.
"Our defence just wasn't at its usual level and when you're up against a team known for their speed, you can't let that happen," said Brunel after the contest.
Having come within inches of defeating the Wallabies just a year ago - before suffering a 22-19 loss - Brunel's frustration was well warranted.
"After the first half, or at least the first 30 minutes, I saw some quality play from Italy," he added.
"Unfortunately we made too many unforced errors and at the end of the day our defence certainly wasn't up to the job."
A poor goal-kicking display from Alberto di Bernardo prevented Italy from building pressure although credit must go to the visitors who threatened every time they broke the line.