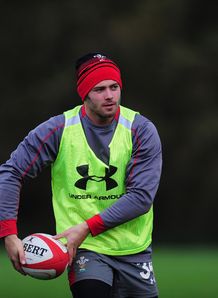 Related links
Teams
Wales full-back Leigh Halfpenny has stated that whilst hugely proud of his recent awards success, he is only focused on improving.
Halfpenny was named as the Lions' Man of the Series after the 2-1 win in Australia and received the International Player of the Year award from Midi Olympique at an awards ceremony in France earlier this week.
Ahead of facing the Springboks in Cardiff on Saturday, Halfpenny underlined that his processes are still the same, despite adding a few pieces of silverware to his shelf.
"I'm just doing my job for my team, what's expected of me when I take the field. I don't usually individualise," Halfpenny told WalesOnline.
"I keep my head down. But, yes, it was a huge honour to receive such a prestigious award. When you look at the previous winners, you realise how special it is.
"The evening celebrated its 60th anniversary and it was an honour to share the stage with so many legends of the game. I'm delighted to win the award and it meant a lot to have my family there to witness it.
"I still myself as the same player as I've always been. I don't see myself any differently, I'm still working hard and still looking for areas I can improve.
"I think you never stop learning. I'm trying to keep learning as a player and keep working hard.
"I'm just trying to work as hard as I can. It's been great to come back into [the Wales] camp. I'm working hard on my game and improving as a player all the time."
Halfpenny also stressed the need for Wales to finally prove themselves against one of the Southern Hemisphere nations, after winning back-to-back Six Nations titles.
"It's expectation we put on ourselves. We have won the Six Nations for two years but last autumn was poor for us," added Halfpenny.
"That's why we have got to take it to the next level as a squad and really make a statement this autumn and start beating the southern hemisphere teams.
"It's going to be a huge contest. We have got to come out on top in the aerial battle."