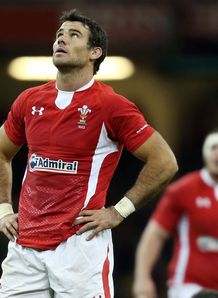 Wales forwards coach Robin McBryde has backed troubled scrum-half Mike Phillips to put his off-field problems behind him on Saturday.
The ex-Osprey was recently sacked by French club side Bayonne for allegedly arriving drunk at a video analysis session.
And Phillips will need to be on his game as the Welshmen open their November Test series campaign with the visit of a much-vaunted South African outfit.
McBryde, however, has dispelled fears the 31-year-old will let those recent events affect his performances in the red jersey.
"We can expect a good solid performance from Mike," McBryde told Sky Sports.
"He has probably got to prove his worth. However, there is no better big-match player than Mike Phillips. We've seen that in the past.
"When he needs to deliver the goods, he comes up trumps, and I don't expect it to be any different on Saturday.
"He is vocal, he is confident and he has got a spring in his step. I have been impressed with him."