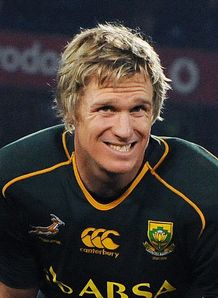 South African skipper Jean de Villiers has thrown down the gauntlet ahead of his side's November Test opener against Wales on Saturday.
De Villiers seemed irked by the talk of Welsh players in the media, as the hosts set their sights on only their second win over the Springboks in 107 years.
"A lot has been said in the media and they can say whatever they want to before the game," said De Villiers.
"We know what we are capable of.
"For us, everything stays the same and we need to deliver on the field for 80 minutes.
"Afterwards we can reassess and make our statements."
But the 32-year-old centre concedes that Wales are on a high having claimed the Six Nations title earlier this year, and contributed the majority of players to the rampant Third Test British and Irish Lions side.
"We know we are in for a fierce battle and are coming up against a quality side," said De Villiers.
"They are pretty confident and will be up for this game.
"They will also be riding high after the Lions.
"But we have to remember we are not playing the Lions.
"It is a big difference and it's not the same side."
Indeed, the captain is confident in his side's preparation for the Tests, having finished a close second to New Zealand in the Rugby Championship.
"We are as well prepared as any test match at the Millennium Stadium and maybe even better," added de Villiers.
"We have to start well for this to be a successful tour.
"This team has come a long way in the last couple of months and we have improved drastically in certain areas. Hopefully we can take that into our game.
"We lost the last Championship game against New Zealand but there were still a lot of positives to take out of that match."
There is another reason to be cheerful for the Boks and de Villiers with the return to Test rugby of midfield partner Jacque Fourie, who is set to feature for his country for the first time since the 2011 World Cup.
After the former spent time in Japanese club rugby, the fruitful Fourie-de Villiers centre partnership will reunite at the Millenium Stadium.
"I don't think we will struggle," said De Villiers.
"The funny thing about partnership is the first time we played together was against Australia and we clicked straightaway.
"The same can happen against Wales and I am looking forward to playing with him again."