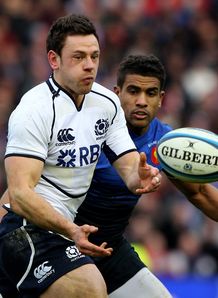 Edinburgh centre Nick De Luca is focused on making the most of his Scotland recall having feared his international career was in doubt.
He was sidelined from the 2013 Six Nations thanks to a lengthy ban for dangerous play.
Then, having been left out of coach Scott Johnson's squad for the June tour of South Africa, De Luca watched from home as Glasgow Warriors midfielder Alex Dunbar excelled in the number 13 jersey.
But now, the roles are reveresed, with Dunbar's injury ruling him out of the November Tests.
And De Luca has his sights on securing a place in Scotland's backline.
"It is a long time since I was involved," De Luca told the Daily Record.
"Until I was dropped I had never missed a squad since the first one I was picked for.
"It was a blow in the summer when I was told I wasn't going to South Africa. I had played a couple of Edinburgh games after my suspension so I was hopeful and happy with how I had performed.
"But I understand what was going on and would have done the same if I'd been coach. It was important to get Dunbar and Matt Scott games to see what they could do.
"And they were excellent. I was thinking, 'Is this the end?' and no one wants to be in that position.
"I then had a great pre-season and got my head down. I am delighted to be back."
The centre admits that his thirteen-week ban for a dangerous tackle in a Pro12 fixture - which was cut to seven on appeal - was difficult to swallow, but that he emerged a better player for it.
"It was emotionally difficult because I regarded it as an assassination of my character," revealed De Luca.
"It suggested I had gone out to deliberately hurt someone - and that is not me.
"But it did give me time to train and do a lot of research off the pitch. I've come back in better shape because of that."