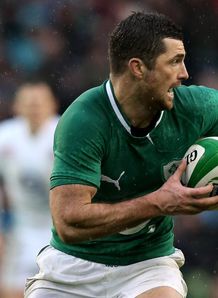 Leinster full-back Rob Kearney believes Ireland must raise their game this November following last season's international let-downs.
The British and Irish Lion claims the squad are well-placed to realise their potential in the upcoming Tests at the Aviva Stadium, and banish the demons of a disappointing 2013 Six Nations campaign.
"We've got to make sure we produce the brand of rugby that people expect from this team, and that we start to fulfil our potential more, unlike the last year," Kearney told the Irish Independent.
"There's a new feel to this squad now, and we can aim to move forward with that. "But we also need to hang onto a bit of the hurt from last year's Six Nations."
With scrum-half Eoin Reddan suggesting that Ireland's November Tests are geared towards building for the Six Nations, but experienced centre Gordon D'Arcy claiming the target is a Southern Hemisphere clean sweep, Kearney has grown tired of what he terms "mixed messages" emanating from within the Irish camp.
"I think maybe people are getting mixed messages from players a little bit," acknowledged Kearney.
"Just because Eoin Reddan makes a statement like 'we're building towards next year', it in no way means we expect to lose these three games.
"Going and saying that all three are a must-win, that might be a little bit off the mark too, it's somewhere in between.
"It's very much about performances in these few weeks, but also making sure we can get some wins too."