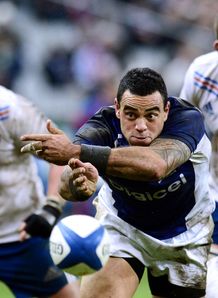 Samoa captain Kahn Fotuali'i insists the rugby world shouldn't be shocked if his team was to defeat Ireland at the Aviva Stadium in Dublin on Saturday.
They have beaten Ireland in Dublin before, though 17 years ago, and not anywhere else since. But having punched above their weight for wins over Australia, Wales, Scotland and Italy since mid-2011, they have progressed to the point where long-heralded promise is turning into results.
"We fight for results and victories: Years in the past, certain wins might have been viewed by some as shocks, and maybe even Samoa saw them like that, too. But it's not that way anymore," Fotuali'i said ahead of the meeting in Dublin.
"You can see that with the calibre of players declaring for Samoa. Players who are eligible for other countries are now making themselves available more and more for Samoa.
"As the whole Samoan setup becomes more professional, more and more players will start making themselves available."