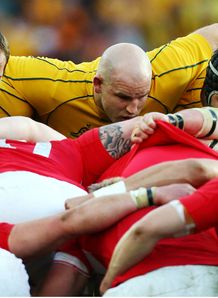 Ewen McKenzie has filed a submission to the International Rugby Board, seeking answers for the treatment of the Wallaby scrum.
Irish referee George Clancy sanctioned an Australian scrum that has struggled for much of the past decade, and was under heavy pressure from their English counterparts at Twickenham last weekend.
However, McKenzie was irked by what he felt were blatant inconsistencies in the official's interpretation of the set-piece, and that the global perception of the Wallaby scrum as "weak" is percolating through to refereeing decisions.
McKenzie - a former Test prop of some 51 Australian Tests - felt his pack had acquitted themselves well in the 20-13 defeat, and was shocked by the penalty count that mounted up against his charges, with the final total standing at seven.
"I know a fair bit about the scrum, more than most, so I know what was going on, and I've made a submission (to the IRB)," said McKenzie in Turin ahead of Saturday's clash with Italy.
"I actually thought we did some good stuff out there. The referee didn't think we did some good stuff, but I actually thought we did, so we will address that through the official channels.
"It's down to matters of consistent interpretation. I haven't got my mind around the fact you can win your own scrum ball cleanly and you get seven scrum penalties against you and they get none.
"It defies some logic there."
McKenzie feels that his side, who have struggled since the introduction of the new scrum engagement sequence, were unfairly treated in the tight.
"If you're seeing a penalty for one thing and then later in the game seeing the same thing happen on the other side and the penalty still goes against you then you go, 'What's going on here?'," added McKenzie.
"You clearly have to have a good day at the office but we are actually doing some good things there but we are not getting any reward there."
But the coach is confident some clarity from the IRB will be forthcoming following his submission.
"The initial communication that I sent has been acknowledged that there was, even on outset, some inconsistencies and they would have to get back to us," revealed McKenzie.