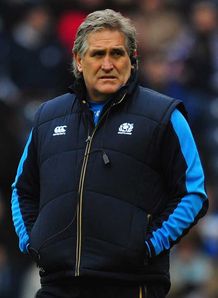 Related links
Also see
Scotland boss Scott Johnson reckons this week's presence of Vern Cotter with the squad can only be a positive for the team moving forward to 2015.
Australian Johnson will oversee Scotland's November campaign, which also includes matches against South Africa and the Wallabies and the Six Nations before 'going upstairs' to a director of rugby role and handing over coaching of the national side to Cotter in June 2014.
Currently in charge of French club Clermont, Cotter has joined Scotland's backroom staff this week to have a look at the set-up ahead of the Japan match at Murrayfield.
"Of course it is good to have Vern here. He is part of the plan for going forward and he's part of the process," said Johnson when asked on the matter.
"We're in this together for these next 22 months ahead of the (2015) World Cup and it's important that he is here and it is important that the squad sees that he's here," Johnson added.
"He will have conversations with me but he won't have any involvement with the players out on the training pitch.
"We are all big men and this is the right thing to do. Vern doesn't technically start until next year and he has another master right now. But it's important that he understands where the squad is and gets to know the players.
"It allows for a smooth transition."