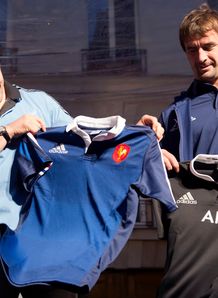 Related links
Also see
Richie McCaw has admitted his team wants to become the first All Blacks squad to go through a calender year with nothing but wins to their name.
The 32-year-old - capped over 120 times since debuting in 2001 - hasn't played in all their games this year, sitting out the three fixtures against France in June, but his team enter their final three games of 2013 with a record of played 11 won 11.
The last All Blacks line-up to go through a year unbeaten was the 1997 vintage, but despite 11 victories that group was also held to a draw.
"I think the team wants to add to the legacy of the All Blacks," said McCaw, speaking to AFP.
"We have achieved a lot of wonderful things in the past few years and this squad wants to add another thing to that list.
"To be the number one team is where we want to be at."
McCaw was not getting overly confident though and said he and his team-mates were taking nothing for granted with their matches against the French, England, who trounced them at Twickenham last year, and Ireland coming up.
"Of course we want to win every game and it would be nice to sit back in December having done so," he added.
"What's the secret? Well it is a cliché really just taking every match as it comes each week and focussing on that and then once it is over and Monday swings round concentrating on the next game."
And is this the greatest All Blacks team ever? McCaw admits it's tough to gauge at this point.
"Well this side is right up there, there is a depth of players with the experience of people like myself and lots of young talent coming through, who would all deserve to play a test on this tour, but with 36 players in the squad that is not possible," he said.
"It is hard to know whether we are better than the 2011 team. There is definitely less experience in this squad, but it is equal in talent."