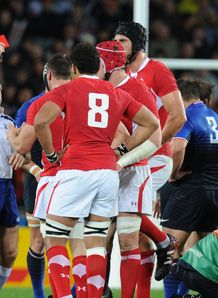 Related links
Also see
Wales captain Sam Warburton insists there is no axe to grind with referee Alain Rolland ahead of facing South Africa.
Rolland has not refereed Wales since sending off Warburton for a spear tackle in the Rugby World Cup semi-final against France in 2011.
The incident left Wales a man down for 60 minutes before narrowly losing 9-8 and missing out on a place in the World Cup Final against New Zealand.
Now nearly two years on Warburton, who captained the British and Irish Lions tour to Australia, has said there is no issue.
"I have barely spoken to Alain since the incident and have certainly never spoken to him about it," said Warburton.
"I joke about it now saying it was a PR stunt because nobody knew about me then. I only realised he was refereeing yesterday. I don't think it will have any bearing on how I work with the referee.
"I met him in the Italy match in the last Six Nations and we said hello. It feels like such a long time ago, I've forgotten about it until somebody brings it up.
"I look back at the tackle and think my head was on the wrong side. I used to go in a bit higher, but my tackle technique has changed now and I go in much lower, so that will never happen again.
"It (red card) still comes up in conversation with me. I might be shopping around Sainsbury's, but two years later people will shout from another aisle 'it was never a red card'.
"Whether I am doing a question and answer session when I'm 60, somebody will ask me about it."
Warburton also revealed that following England's wins over New Zealand and Australia in the last 12 months, the pressure is on Wales to destroy the growing psychological hurdle of defeating the Southern Hemisphere giants.
"When England beat New Zealand last season and Australia a few days ago, I was delighted," added Warburton.
"We have a good record against England and a poor one against the other teams. Even though we don't want to admit it, it might be psychological.
"If we do win (on Saturday), there won't be massive celebrations because we feel that is the level we are at now.
"We want a scalp in a Welsh shirt now. To win the series for the Lions was immense. We will take massive confidence from that, but until we beat one of these (Southern Hemisphere) sides we can't call ourselves contenders for the World Cup."