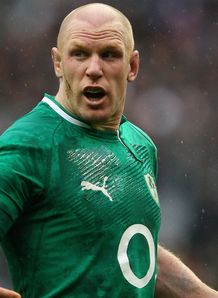 Ireland forwards coach John Plumtree has revealed that lock Paul O'Connell is being given as much time as possible to prove his fitness.
O'Connell was back running in training ahead of this weekend's Test match against Samoa in Dublin.
Injured during the Lions tour, O'Connell has since returned for Munster but is now recovering from a calf muscle problem in order to be in contention for Saturday's match.
Doubts remain as to whether O'Connell can perform for a full 80 minutes, but Plumtree was confident he would be involved.
"Paul O'Connell ran, Sean O'Brien ran. So they have been struggling a little bit," said Plumtree.
"We haven't named the squad yet. It will be a medical decision based on the fact that he (O'Connell) could do 80 (minutes).
"Whether he can go 80 or not, I'm not sure. We'll think about it and see what we are doing.
"He's our most experienced lock. He's been the glue in that pack for a fair while. He's important; he's still keen, still enthusiastic and still loves playing for Ireland, so he's important."
Plumtree revealed that he was impressed by Samoa's preparation before the match at the Aviva Stadium, after accidentally witnessing one of their training sessions whilst collecting his son from school at Blackrock College.
"They were training at my son's school so when I was going down to pick him up I was watching their training for a bit," added Plumtree.
"I wasn't spying on them! I didn't know it was going to happen. But they were well-organised, training was good and their work ethic was strong.
"In the past Samoa relied on individuals but I was in South Africa when they were playing over there against Scotland, Italy and South Africa. And they were playing as a team.
"Defensively they were well organised. They have really stepped up and I guess it is really because of the individuals they have playing around the world now, being exposed to different teams and cultures.
"They are a real threat now because they are not only dangerous because they are individually good - they play as a team."