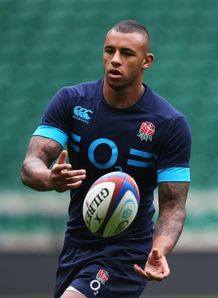 England lock Courtney Lawes believes he is yet to transfer his excellent form for Northampton Saints into Test rugby.
Lawes was paired with Joe Launchbury for the first time in the 20-13 win over Argentina, coming in for the concussed Geoff Parling.
On fire for Saints in their early season run to the top of the Aviva Premiership, Lawes believes England are yet to see the best of him and he plans to be more involved against Argentina.
"There's a hell of a lot more to come from me," said Lawes.
"If I can take my Northampton game and bring it here I can do a lot more. The more involvement I get, the better I'm going to play."
Typically seen as an enforcer on the field due to his notable tackles and physical play, Lawes have developed his game this season by calling Northampton's lineout.
Commenting on comparisons to the likes of Bakkies Botha, Lawes believes that doesn't tread on the same line of ill-discipline.
"I'd probably be the smallest enforcer in the world! I'm pretty light," added Lawes.
"I've always had that mindset where you give your body to the fans, to the rugby and the team. What happens, happens.
"I am not going to back out of a tackle because a guy is bigger. I have just a better technique when I am doing it.
"I don't consider myself a cheap-shot player. I never throw punches, stamp, or anything like that. I may have made a late tackle depending on whose side you are on. These are marginal things. Most of the time I can't stop anyway. I just do my thing.
"I'm not an enforcer but like to make tackles, carry ball and get over the gain line.
"When you think about enforcers you think about guys like Botha - big physical guys who are very much on the edge with referees.
"They are also on the edge of what you can and can't get away with in terms of cheap shots here and there."