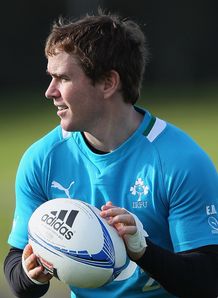 Ireland scrum-half Eoin Reddan expects a bruising encounter when his side face Samoa in Dublin on Saturday.
Samoa are ranked one place above Ireland in the IRB's standings and after the South Sea islanders beat Italy and Scotland in South Africa in June - following their triumph over Wales in Cardiff 12 months ago - the Leinster number nine believes Ireland will have to be at their best if they want to be successful.
"Samoa are ranked seventh in the world and have had massive victories last year against Italy, Scotland and Wales," he told the Belfast Telegraph.
"We know what we are up against this week.
"It is a tough game because it is the kind of one where within a squad you know what you are up against.
"Outside the squad, people normally don't know what you are up against, so expectations can be very high and there is a bit of a gap of what is expected and what is a reality.
"We know they are all challenges we have to deal with this week and I think we won't be looking past this week because of that.
"Samoa scored after 1:52 last year against Wales.
"There was no doubt about what they had come to do.
"From the kick-off they turned the ball over, it was all-out attack for two minutes and they scored in the corner.
"That is what we will be up against this week. They are going to come out very strong and very fast and we will have to do the same."