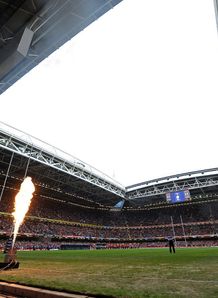 Related links
Also see
Springbok coach Heyneke Meyer has revealed that he will not ask for the roof at the Millennium Stadium to be closed when his team face Wales on Saturday.
On Monday, Meyer said that South Africa were essentially using their end-of-year tour as a trial ahead of the World Cup in England and the coach is hoping to see his players perform in similar conditions to those expected at the global showpiece in 2015.
Both coaches have to agree to play a Test under a closed roof - which has been the preferred option in the past - but Meyer is hoping for rain, and lots of it.
"I have always said there is no such thing as bad weather, only soft players," said Meyer.
"I will be disappointed if the skies are clear. I want to use this tour to test players in the condition they can expect at the World Cup. I want to see who is mentally tough enough to brave the cold and the rain, and who is not.
"I want to see which players get stuck in when the weather is bad because the rain will certainly strike in most games of the World Cup. So the more rain on this tour, the better.
"I do not regard this as an end-of-year tour, but rather a new start in the quest to see which players are up to playing at the required level in difficult conditions against three very tough teams.
"I have always said that as a Springbok coach the most important thing is to win every Test match, but at some stage you have to have an eye on the World Cup, which is undoubtedly the highlight of the four year cycle.
"You cannot just hope that the team will come together over the four years, at some stage you have to start putting things in place. That time is now."
In line with his aim to run the rule over his whole squad, Meyer has promised to make changes to his starting XV for the second tour game in Scotland.
"Regardless of what happens against Wales there are players I want to give an opportunity to in that game," added the coach.