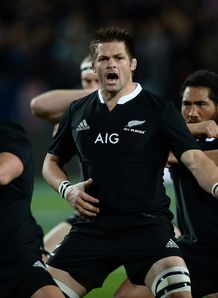 New Zealand skipper Richie McCaw has cautioned that Japan's quick speed of play could cause the World Champions problems in Tokyo.
The Cherry Blossoms line up against the Kiwis in the capital on Saturday - the first time the teams have met on Japanese soil - and McCaw is at pains to stress the All Blacks' level of performance must rise again.
"It's pretty key we have a performance that's as good as, if not better than, where we've been," said the 32-year-old.
"We can't afford, just because we've got a few changes, to let our standards drop."
"It's a different challenge playing the Japanese. But I'm sure the pace of the game will be up, but we've got to be careful that we don't get frantic with it."
Japan turned heads in June, following up a narrow loss to an experimental touring Welsh side with an impressive victory a week later over the same opposition.
"I'm sure that they have gained a lot of confidence out of the two Tests they played against Wales," said McCaw.
"And all of a sudden, you start believing in what you can do.
"There is no doubt they've got some ability to play," he said.
"They frustrated the Welsh. They put them under pressure. They had quickness in their game."
The 120-cap veteran will start at number-eight on Saturday, with youngster Sam Cane taking his usual place on the openside flank.
"I'm quite excited," said the captain.
"You still get to get skills right in tackling, catching that sort of stuff.
"I'll have another four weeks to look forward to but it's nice to be fit really."