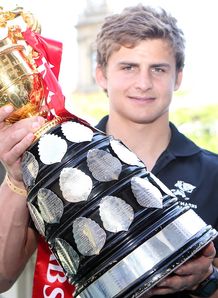 Sharks and South Africa fly-half Patrick Lambie has basked in the glory of winning the Currie Cup after returning to Durban.
The Sharks' comprehensive victory at Newlands last weekend marked a high point in a mixed season for the young number ten.
Lambie's goal-kicking was mixed but the Sharks' tactical kicking game worked in their favour, as Lambie finished with 23 points including two drop goals in the second half.
It's a very joyous occasion for us. It's wonderful to see all the support that we have for winning the Currie Cup and all the support the boys have received during the competition,"said Lambie.
"It's very special and great to be recognised by the city.
"Winning the competition is a very special achievement. As a rugby player in South Africa, the Currie Cup is the pinnacle.
"It's the ultimate achievement. There's so much heritage, history and tradition behind the trophy, so it's momentous for us.
"We treated the game the same as any other one. Fortunately, this was my fourth final so you sort of get used to the feelings, the nerves, and the adrenaline, but it was really nice this year, there were no big expectations, no big pressure... the talk was always positive even when things weren't going our way.
"For every player out there, I think all you can do is enjoy it when the atmosphere is like that."
The Sharks are set for a management change at the top with the return of Jake White to rugby in South Africa for next year's Super Rugby tournament, and Lambie had fond words for departing director of rugby Brendan Venter.
"Brendan's a great guy and it's fantastic what he's done," added Lambie.
"The whole Sharks' management have worked extremely hard over the past few months.
"So it's very fitting that we've ended up winning the trophy. It's been an interesting year at the Sharks... a lot of disruptions, a lot of unhappiness and not great results in Super Rugby.
"It's awesome that we can the year off on a good note and go into Super Rugby next year on a positive foot."