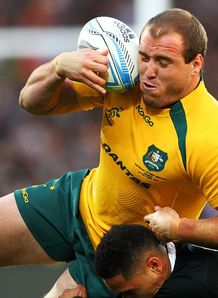 Australia prop Ben Alexander has reflected on the end of the Lions series ahead of facing England at Twickenham.
The Wallabies were comprehensively beaten 41-16 in the Third Test in Sydney back in July, losing the series 2-1.
The defeat signaled the end of Robbie Deans' time in charge of Australia, with Ewen McKenzie taking over and so far winning only two of his first seven matches in charge.
Now eyeing a European Grand Slam, Alexander admits that the Wallabies' abject performance in the Sydney decider came down to being unable to handle the pressure of the occasion.
"After that third game I was devastated," said Alexander.
"I was looking forward to that series for such a long time. To lose the series the way we did, especially after the first two games were so close and well fought, hurts.
"For all the hype around the third game and for us to implode the way we did was just disappointing. I think the pressure got to us.
"We were like deer in the headlights with the way we played that third Test.
"That arena has gone now and we'll never have the chance to beat the Lions.
"You just have to use it as fuel for the fire the next time there's a big occasion. You use that disappointment to train harder and prepare better."