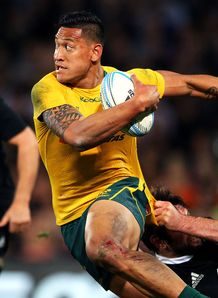 Related links
Also see
Australia back Israel Folau is determined to make an impression when he faces England at Twickenham Stadium next weekend.
Still smarting from Australia's series loss to the British and Irish Lions earlier this year, Folau is looking for revenge.
The tri-code convert has made a stunning impact to life in Union with the Waratahs and Wallabies, scoring seven tries in ten Tests so far - including a hat-trick in his latest match for Australia against Argentina.
"The rivalry between the Aussies and the Poms is something you always want to get up and play for, Wales as well. It will be a hit back for the Lions campaign," Folau told Rugby Gold.
"Most of the guys involved are in the Welsh and English teams, you want to be playing your best footy against quality sides like that.
"It's in the back of your mind, that this is the only way you can get back at them, playing these type of games.
"It makes it a lot more special when you make your mark against good teams like that, especially at stadiums like Twickenham.
"You want people to remember your performance in a big game, that's something I really enjoy as a challenge.
"As a player you want to stand out. I will try to play my role for the team. It only helps if we get a full team performance that guys can shine as individuals. It's a special thing for me to have big performances in big games."
Australia will also face Wales, Ireland and Scotland after their trip to Twickenham, as Folau continues to settle into his new role in the 15 jersey for the Wallabies.
"[I'm] a lot more [comfortable] in attack, getting my hands on the ball, coming into the line and calling it with confidence," added Folau.
"Realising that I can play for the team a little bit more, getting the team on the front foot at times, I feel a lot more comfortable in doing that."