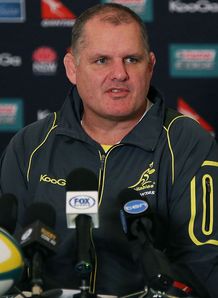 Wallabies boss Ewen McKenzie has bullishly thrown down the gauntlet ahead of Australia's November tour of Europe.
The Wallabies endured a tricky Rugby Championship campaign, emerging with just two victories, both over basement boys Argentina.
That said, after a desperately poor start, things did look brighter for the Australians in their final two test-matches, with a thumping victory over the Pumas in Rosario, and a much-improved performance in defeat to the All Blacks 41-33 in Dunedin.
"We're out there to win - five wins would be good," said McKenzie.
"We're not out there to come second so we're out there to win every game and obviously get some consistency.
"Winning one game is not enough. We've got to win consistently."
McKenzie stated that the momentum of those two most recent fixtures is having a positive effect on his charges.
"All the players can feel that," he said.
"There are a lot of things going on behind the scenes within the group, all positive things, so this tour will be a great opportunity for us as a group to work hard and get some good results."
But, the coach was keen to point out that professional rugby is about results, and results have been hard to come by for the Wallabies in 2013.
"There's been encouragement in all of their games but, ultimately, you can only talk about the scoreboards," said McKenzie.
"The scoreboards haven't been kind to us, but there have been a lot of positives from the coach and player perspective.
"In the end, we've just got to pull that together, we've just got to tidy up things that keep repeating and there's been a few of those things that we'll target on this tour."