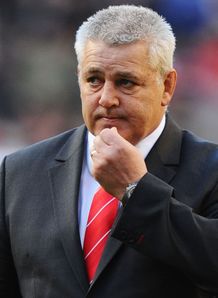 Wales coach Warren Gatland says that scrum-half Mike Phillips' latest disciplinary issues in Bayonne will have no bearing on his place in the national squad.
Phillips, along with Kiwi team-mates Dwayne Haare and Stephen Brett, will face Bayonne board chairman Philippe Ruggieri on Tuesday to account for their behaviour after the trio reportedly turned up for a video analysis session under the influence of alcohol.
"He conducted himself extremely well with the Lions in Australia, both on and off the field," Gatland told Wales Online.
"I am expecting that same sort of attitude from him when he is involved in this campaign.
"Obviously, there are slight concerns about making sure this is something that does not continue to be repeated. We will just sit down and have a quiet chat about where his head's at and what he's doing, but there will be no sanctions for him here in this set-up.
"That's a French decision. That's a Bayonne decision. Those are issues for him to sort out."
Meanwhile, Clermont full-back Lee Byrne has reacted angrily at being left out of the Wales squad for the November internationals.
"Gutted to be overlooked by Wales again. Obviously quad was picked on blooding players for WC not on form or playing ability. #wtf" tweeted Byrne on Tuesday.
Gatland's comments at the squad announcement seemed to lend weight to Byrne's view of the selection policy.
"The Rugby World Cup is less than two years away, so we are looking to build as much depth in our squad as possible and to give vital international experience to our players," said Gatland.