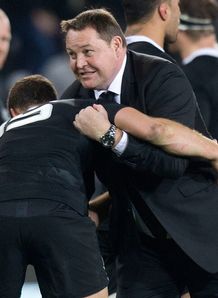 All Blacks coach Steve Hansen said his side committed too many mistakes in Saturday's 41-33 Bledisloe Cup victory over Australia in Dunedin.
The All Blacks wanted to repeat the high level of their performance two weeks ago when they beat the Springboks in Johannesburg to claim the Rugby Championship but Hansen believes they can still improve.
"It wasn't perfect but we really didn't expect it to be from where we've been and what we've done in the last three weeks.
"Maybe we let a couple of soft ones in but at the end of the day it's a lot better than last year," Hansen said, referring to the 18-18 draw with Australia in the 2012 third Test in Brisbane.
Wallaby captain James Horwill was left "bitterly disappointed" by the result.
"We came here to win," he said.
"We never like to lose but we're proud of the effort the guys put in.
"We were always trying to win the game no matter what the scoreboard was and we went down swinging and that's the commitment of the group."