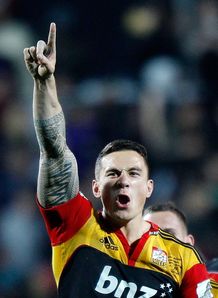 Related links
Teams
Sonny Bill Williams has confirmed that he wants to return to Rugby Union in New Zealand with the Chiefs in 2015.
The Rugby World Cup-winner's future was thrown into doubt this week, before Williams confirmed he would stay in Rugby League for another season with the Roosters after winning this season's NRL title, rejecting an offer from the NZRU and the Chiefs this week.
Returning to Union next season would put Williams in contention for New Zealand's squad for the Rugby World Cup in England in 2015, as the world champions look to retain the title from 2011.
The 28-year-old is set to play for New Zealand in the upcoming Rugby League World Cup in England, and revealed his plans for the next few years while speaking at a training camp.
"It's been a tough couple of days but I am happy to have my future sorted," said Williams.
"I will go back to the New Zealand Rugby Union to try and put my foot in the door for a franchise in New Zealand, hopefully the Chiefs.
"But I understand, with the situation of staying in league, that might not be an option.
"But it's good to have made my intentions clear for the next three years.
"I wanted to put it all out there as I am overhearing what I am going to do as everyone else."