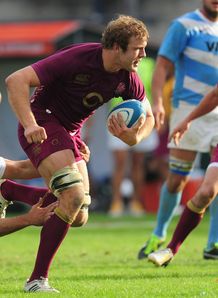 Related links
Also see
London Wasps and England lock Joe Launchbury confessed that he suffered a dip in form towards the end of his breakthrough season.
Launchbury made his debut for England in the November Internationals and played a full role in the Six Nations and on the June tour of Argentina.
The 22-year-old talent produced some outstanding performances in his breakthrough campaign, but admits that, along with his Wasps team-mates, his form was not at its highest standard towards the end of the domestic season.
Having missed out on Heineken Cup rugby, Launchbury stated that Wasps were more focused than ever to push on.
"I'm massively proud of what happened last year. It was a big shock and I was delighted to get my first cap back in November," said Launchbury.
"To play for England was a great high but then a few games before the end of the season I may have let the standards I set slip.
"I was lucky to have a week's break before Argentina and then had another two to three weeks to build myself back up for the tour.
"I loved Argentina and we played some great rugby. It was good for me to come back and put in a performance and now I need to maintain that standard throughout the year.
"I was a bit disappointed with the way the end of last season unfolded and that's something we're trying to work on.
"We played some great rugby at times and challenged teams at the top half of the table, but let it slip at the end of the season.
"It dangerous to set minimum and maximum standards for the new season. It's a very professional league, but we feel like we're ready to push forward across all fronts."