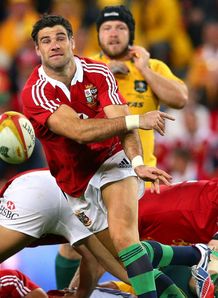 Wales scrum-half Mike Phillips insists that he has plenty of rugby left in him as he now targets the next Rugby World Cup.
The 30-year-old played a key role in the British and Irish Lions series victory over Australia earlier this month.
Based with Bayonne in France, Phillips believes that he is yet to reach his peak and has praised the Wales coaching staff of Warren Gatland, Rob Howley and Shaun Edwards for their impact on his career.
"I am still as hungry as ever," said Phillips.
"This could have been my last Lions tour so I wanted to make the most of it. I want to achieve things and to nail certain things in my career. The 2017 tour is achievable but first is the World Cup.
"It's a big goal of mine to make that and I really want to go into the tournament as number one. I think I am still improving and I've not peaked."
"I get on really well with Rob (Howley), Shaun (Edwards) and Warren. The first day they came in and spoke, I was on the edge of my seat listening.
"They've been a massive part of my career and gave me an opportunity at the start. I feel comfortable with the coaches and that has helped me on the pitch.
"I've massive respect for them and what they achieved as players and coaches and I don't want to let them down.
"They've been good to me and but as I've told them I have been good to them!"