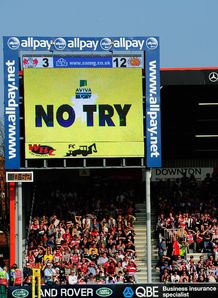 Neutral television match officials (TMOs) will be appointed to test matches from August, the IRB have announced.
Debuting with Australia versus New Zealand in The Rugby Championship in Sydney on August 17, the team of four match officials appointed by the IRB will all be independent of the two participating Unions.
Current policy stipulates neutral selections for referees and assistant referees for test matches but not the TMO, recognising geographical and economic challenges of a global Game.
However, with TMO responsibilities having been extended on a trial basis to review up to two phases (rucks or mauls) before the ball is grounded in the act of scoring and potential acts of foul play, the IRB undertook an extensive review of this important area of match officiating.
"International Rugby is our shop window and it is important that we constantly collaborate with major Rugby stakeholders to invest in and deliver best-practice officiating for the Game's showcase events," said IRB Chairman Bernard Lapasset.
"This landmark policy change is a result of a holistic and detailed review of the TMO role in light of the additional responsibilities as a result of the trial implementation of extended powers of the TMO in international Rugby, including reviewing potential acts of foul play."
"The neutral policy further enhances integrity and reduces pressure on the person tasked with this important role while ensuring that we continue to promote and appoint our very best TMOs to test matches."