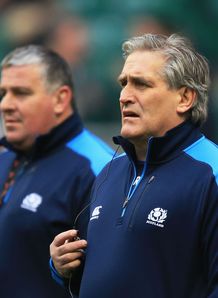 Scotland scrum coach Massimo Cuttitta has backed his side to be competitive in the scrum when they face Italy on Saturday.
Defeats to South Africa and Samoa have halted the momentum gained by Scott Johnson's side during the Six Nations, when they finished third.
Taking on Italy at Loftus Versfeld gives Scotland their final opportunity to pick up a win this season and Cuttitta is confident that Scotland can target the Italians set-piece.
"They (Italy) are going to want to prove themselves in the scrum, they are good in that area. Every time we play them and that is somewhere we have to target them," said Cuttitta.
"They are good there but if we can target their set-piece then that is a big step to winning the game. We need to confront them up front, we can't let them do what they have always done.
"They have some interesting youngsters and are also blooding a few younger players.They have two or three good loosehead props coming through [Lorenzo] Cittadini who is a good tighthead. [Martin] Castrogiovanni has experience and will mentor these boys. They are not bad.
"They were convinced that they would come to Murrayfield and win and were really surprised at how we came at them. That is how we have to approach them again, the same as last time - just like it was at the weekend, where the effort was really good.
"There are a lot of positives to take out of that match against South Africa. As coaches we have reviewed it and there are a lot of positives. Yes, there are still a lot of things we have to work on, but we can say there were a lot of good things.
"You have got to bear in mind that South Africa (who recovered from 17-6 down against Scotland to win 30-17) are one of the best teams in the world playing at home and we competed well against them."