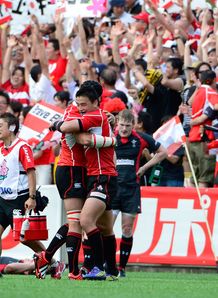 Japan's first-ever win over Wales has seen the Six Nations champions drop one place in the latest IRB World Rankings.
The Welsh drop from fifth to sixth in the rankings after the 23-8 defeat in hot and humid conditions in Tokyo. Japan, hosts of the 2019 World Cup, stay in 15th but the two rating points accrued leave them just 0.38 behind world number 14, Fiji.
France profit from Wales' loss to go fifth despite their 30-0 loss to New Zealand, who remain top of the list by almost three rating points.
One place adrift of Wales are Samoa, who have now won five of their last seven matches after beating Italy. The 39-10 victory over the Italians in the four-nation tournament in South Africa leaves the Islanders less than one rating point behind Wales, but their next opponents present a formidable challenge - the Springboks, a side the Samoans have never beaten.
Scotland pushed the Springboks close in Nelspruit but remian 11th, having dropped out of the top ten after losig to Samoa a week earlier.
Italy and Tonga, 10th and 12th before the weekend, swapped places thanks to Tonga's 18-9 win over USA in the Pacific Nations Cup. The Tongans are now snapping at the heels of Argentina, who stay ninth in the world but with a reduced points total after England won 51-26 in Buenos Aires to complete a 2-0 series clean sweep.
Meanwhile, Ireland maintained eighth place in the world with a 40-14 triumph over Canada in Toronto.
The result, played in front of a crowd of 20,396 - a record for a rugby match on Canadian soil - ended the home side's recent run of victories against Tonga, Fiji, USA and Russia but leaves them unchanged at 13th in the world.
In Africa, there was qualifying action for the 2015 Rugby World Cup in Dakar during the week, involving Senegal, Namibia, Tunisia and Botswana, but only Tunisia's place in the world rankings changed - they rise one spot to 42nd after a 43-12 win over Botswana and a 45-13 loss to Namibia.
Finally, Uganda retained their Elgon Cup title by edging past Kenya 17-16, rising from 41 to 37 in the process as the losers drop three places to 40.
The IRB World Rankings:
1(1) N. Zealand 90.08
2(2) S. Africa 86.94
3(3) Australia 86.87
4(4) England 85.76
5(6) France 81.59
6(5) Wales 81.36
7(7) Samoa 80.50
8(8) Ireland 79.58
9(9) Argentina 76.67
10(12) Tonga 76.17
11(11) Scotland 76.05
12(10) Italy 75.08
13(13) Canada 72.40
14(14) Fiji 71.29
15(15) Japan 70.91
16(16) Georgia 67.66
17(17) USA 67.14
18(18) Romania 66.18
19(19) Russia 61.99
20(20) Spain 60.44
21(21) Uruguay 59.87
22(22) Portugal 58.82
23(23) Namibia 58.70
24(24) Korea 58.10
25(25) Belgium 57.52