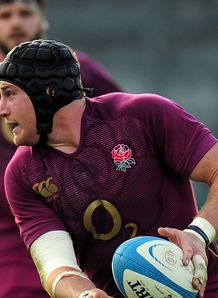 England back-rower Ben Morgan believes Saturday's 32-3 win over Argentina has made the battle for a starting place more competitive.
With several first-choice players on tour with the British and Irish Lions in Australia and others like Chris Ashton and Chris Robshaw being rested, many new players were given a chance to shine for England on their tour of South America.
And with many producing excellent performances in the win over Argentina in Salta, Morgan feels the newcomers have staked their claims for the end-of-year internationals.
"We have got a lot of young lads and new people coming in who have been given an opportunity to put their marker down and stake a claim for the shirt," he said.
"The way people are playing at the moment, it is going to make things difficult for people coming back to get back in.
"That's exactly what we want. We want a competitive environment as a team because that is going to drive us to towards our goal of the World Cup in 2015."
Morgan was happy to return to Test action after battling with an ankle injury for most of England's Six Nations campaign.
"The Six Nations ended prematurely and you just want to explode as you get back on the pitch.
"There is a lot of pent up frustration getting injured and it was great to be involved.
"I was out for about 10 weeks. I had two and a half Premiership games before I came out here, so I was pumped and ready to go."