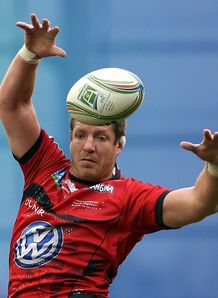 Toulon lock Bakkies Botha revealed that he is ready to play for South Africa if Springboks coach Heyneke Heyneke Meyer comes calling.
Botha, who helped Toluon to a 16-15 victory over Clermont in the Heineken Cup Final last weekend, said he has not been in contact with Meye but feels he can still do a job for his country.
"I always say to people it's not in my hands, at the end of the day it's in God's hands and I just want to keep myself as fit as possible so if there comes a call through then I'll be ready," he told the Eyewitness News website.
"I love it in Toulon, I'm just happy we can win a trophy like the Heineken Cup. I don't know what the future holds for me but I just want to keep myself healthy and fit."
The 33-year-old hasn't played for the Springboks since the 2011 World Cup but he believes his stint at Toloun proves that he can make the step up to Test level.
"It (Heineken Cup title) shows that I didn't just come overseas to collect my pension or retire," he added.
"We're putting in the hard yards, the Heineken Cup final and the winning of it, shows the outside world that we're not in Toulon to have a nice holiday and get some good money to retire.
"We work hard and the way we work hard means that we can still participate with international teams."