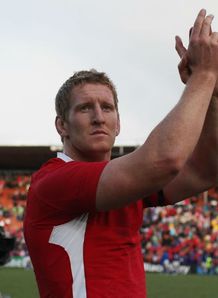 New Wales captain Bradley Davies has expressed his delight at being named to lead the squad in Japan next month.
The Cardiff Blues lock endured a difficult season with injuries and suspensions, but has come out the other side and will now lead a weakened Wales squad in a two-Test tour due to 15 players being away with the British and Irish Lions.
"Any chance to play for Wales is a massive honour but to captain my country is a feeling I've never experienced before," said Davies.
"It's amazing, especially after the time I've had. I've been injured, banned, knocked out - everything that could happen to me has happened.
"My family are very proud. I think my Nan told everyone in Llantrisant before it was even announced."
Davies has not played for Wales since last November, after he was knocked out by a swinging arm from All Blacks hooker Andrew Hore. He then missed the successful 2013 Six Nations campaign due to an ankle injury.
"It's been difficult because I went through a stage where I played 10 to 15 internationals, starting every game, then I ended up on the bench a lot and my career got a bit messy, with small injuries and decisions not going your way," added Davies.
"But I've learned from things and see this as the halfway point in my career. I've been a bit unlucky. I've taken my eye off the ball at times, but I've refocused. When you are away from the Wales camp and you watch the boys play on television, it gives you a kick up the backside and a desire to get back in.
"Sometimes you might take things for granted and, if there's a savage fitness session, ask yourself what you're doing there.
"But being out of the camp puts it in perspective. Sitting in my local pub watching Wales win a Grand Slam is not a nice feeling."
Despite his focus being on leading Wales, Davies admits that if he were needed by the British and Irish Lions in Australia then he would be available to make the relatively short journey south.
"It's an easy flight down from Japan - not too far. I would row it if they wanted me to join the squad," stated Davies.
"Obviously, I don't want to wish an injury on anyone, but if the chance does come I'll grasp it with both hands."