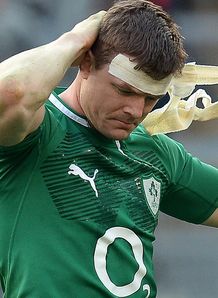 Ireland centre Brian O'Driscoll has rejected speculation that he may extend his international career to the next Rugby World Cup.
The 34-year old announced last week that he had signed a new one-year contract with Leinster and the IRFU, seeing O'Driscoll link up with soon-to-be Ireland boss Joe Schmidt at Test level.
However in a move to quell speculation about one more further season before the next already begins, O'Driscoll has ruled out another year after 2014 and the chance to bow out at the Rugby World Cup in England in 2015.
O'Driscoll admitted that a big factor in his decision to continue playing next season was down to the appointment of Schmidt as the new Ireland boss, along with the arrival of Matt O'Connor to coach Leinster from Leicester Tigers.
"I really am not ready for a year of speculation. It is going to be just the one. I can't handle that in every interview that I do," said O'Driscoll to The Irish Times.
"I know with my wife, I did agree to do just one more. I did say as well when I was talking about a World Cup, that means three pre-seasons. I don't have another three pre-seasons in me.
"There were lots of different factors in who was going to come in as national coach and then who was going to come in at provincial level.
"From a family situation then in terms of what my wife's set-up was, we've a new baby girl. And also how my body was. All of those factors come into things.
"So it was about weighing up all those options and wondering was I ready to give it up, knowing that I wouldn't be playing anymore and you're a long time retired.
"I just felt that I still had plenty to give to be able to allow myself one more year."
O'Driscoll also admitted his surprise at the news last week that Munster and Ireland fly-half Ronan O'Gara is to take up a coaching post at Racing Métro, the destination of incumbent Ireland fly-half Jonathan Sexton, whilst also praising O'Gara's contribution to the game in Ireland.
"The boys [O'Gara and Sexton] have had an interesting relationship over the last few years but it's grown into a good friendship recently. The dynamic will work well over there.
"There's very few guys that you'd be willing to put your life on but [O'Gara's] definitely one of them.
"He backed himself right to the very end and I think that confidence has stood to him over a fantastic career.
"He is without a shadow of a doubt one of the better players I've ever played with."