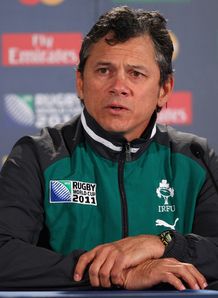 Les Kiss has confirmed that he will be a permanent member of Joe Schmidt's Ireland coaching staff after the upcoming tour to North America.
Kiss is Ireland's caretaker coach for next month's Tests against the United States and Canada, but until Sunday's squad announcement his future beyond that was in question.
However, he will be Ireland's defence when Leinster boss Schmidt assumes full control after the summer.
"We've had a simple conversation and I'm very happy to be involved," said Kiss.
"I'm looking forward to working with Joe.
"I've known Joe since he came to Ireland and have worked with him before at the start of his Leinster tenure. We get on well."
Schmidt, who won the Amlin Challenge Cup with Leinster on Friday and is preparing for the province's PRO12 final against Ulster this weekend.
And Kiss revealed that the New Zealander had some input into the make-up of Ireland's touring squad, albeit minimal.
"We talked about players to be selected but because Joe's still involved with Leinster at the moment he didn't want to interfere too much," Kiss said.
"But it's been busy for me and busy for him - he has another final coming up this week. He's happy for me to run the tour, there are no issues.
"He'll make his way over at some stage, which will be a fantastic opportunity for him to observe some of the players and see how they perform in a Test match."