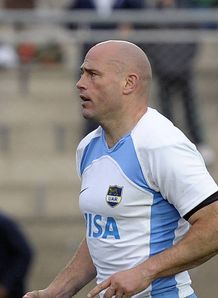 Related links
Also see
Argentina have named a 28-man squad for the Test series against England and Georgia, with veteran centre Felipe Contepomi selected.
Contepomi is one of the more experienced heads in head coach Santiago Phelan's squad, with several high-profile stars rested ahead of The Rugby Championship.
Those players missing include Marco Ayerza, Juan Imhoff, Juan Martin Hernandez, Horacio Agulla, Santiago Fernandez and Juan Figallo.
Argentina will host England in two Test matches in Salta and Vélez, before facing Georgia on June 22.
Contepomi will retire at the end of the season aged 35, with the great fly-half having already won 79 caps for his country scoring 631 points.
Two players from Super Rugby, Nicolás Vergallo and Tomás Leonardi, have both been selected from the Southern Kings.
Tomás Carrió Duendes and Benjamín Madero have both been selected for the first time along with Guillermo Roan and Mauricio Guidone.
Argentina June Squad: Belisario Agulla , Gabriel Ascarate, Rodrigo Baez, Martín Bustos Moyano, Maximiliano Bustos, Tomás Carrio, Felipe Contepomi, Tomás Cubelli, Tomás De la Vega, Julio Farias Cabello, Mariano Glarza, Martín Garcia Veiga, Francisco Gomez Kodela, Mauricio Guidone, Pablo Henn, Martín Landajo, Tomas Leonardi, Esteban Lozada, Benjamín Macome, Benjamín Madero, Manuel Montero, Matías Orlando, Bruno Postiglioni, Guillermo Roan, Gonzalo Tiesi, Benjamin Urdapilleta, Tomás Vallejos Cinalli, Nicolás Vergallo.