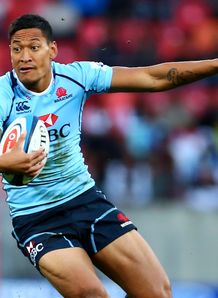 Related links
Teams
Also see
Israel Folau looks set to extend his stay in rugby union after declaring his desire to play in the 2015 Rugby World Cup.
The former rugby league and Australian rules player has impressed in his debut Super Rugby season and has come to the fore in recent weeks, scooping two man of the match awards in three matches.
The 24-year-old looks almost certain to receive a call-up to the Wallaby squad to face the British and Irish Lions and speaking in the wake of his sensational performance against the Bulls on Saturday, Folau reveals that he is ready to make the step up to Test rugby.
"If I get the opportunity to play Test rugby I feel like like I'm ready to play at that level," Folau told AAP.
"I love to challenge myself and put myself into good tests against quality opposition."
While playing against the Lions is a tantalising enough prospect, it could be the presence of a World Cup just two years down the road that sees Folau stay in the code for more than just a year.
"That's something that's really exciting, if I get to be a part of it," he commented of the World Cup.
Folau admits that he is attracting interest from a number of rugby league clubs, but that he is not paying too much attention to them.
"There's a lot of league clubs showing interest and obviously contacting my manager," he explained.
"At the moment my job is to focus on what's going on with the Waratahs and my manager feeds that info to me but I'm not really worried about that at the moment."
Meanwhile, NSW Rugby Union chief executive Jason Allen has said the union are optimistic about agreeing a deal to retain Folau.
"We're extremely hopeful and we're hoping that we can bring this to a close as soon as possible," Allen told AAP.