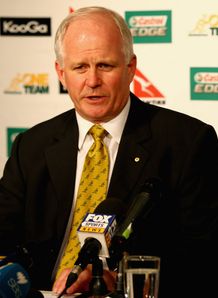 The Australian Rugby Union (ARU) has recorded another large deficit but predicts a surplus for the next financial year due to the upcoming three-test British and Irish Lions tour.
The ARU on Monday announced a net deficit of $8.3million at its annual general meeting.
While total revenues were up $21million from the World Cup year in 2011, when the ARU recorded a $10.6million loss, gross expenditure also increased to $100.3million.
Chairman Michael Hawker blamed the high Australian dollar for a negative impact of $7.5million.
"While revenues were higher than the previous year, so was expenditure, which was primarily due to our continued investment in the game," Hawker said in an ARU statement.
"ARU's revenue growth was driven by a number of factors, including an increase in sponsorship and an increase in match day returns due to the increased domestic Test programme compared to 2011.
"These increases, combined with the expectation that this year's British and Irish Lions tour will deliver substantial financial gains to Australian rugby, provides the organisation an opportunity to better its financial position in 2013."
The Lions, who last toured Australia in 2001, will play tests in Brisbane, Melbourne and Sydney in June and July. The tests are already sold out.