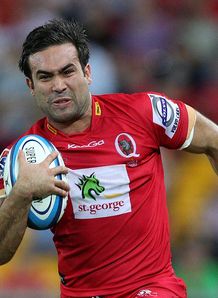 Reds winger Rod Davies is not giving up hope of winning another Test cap for Australia, despite his forgettable debut in 2011.
Davies played a part in the Wallabies' shock 32-23 loss to Samoa in 2011, when he was steamrolled by opposite number Alesana Tuilagi on several occassions.
It was the first and the last time the Reds speedster played for his country.
However, following a brace of tries in his comeback match for Queensland against the Chiefs last Saturday, Davies hopes more eye-catching performances will lead to at least another Wallabies jersey.
"I won't forget his (Tuilagi's) name too quickly," Davies told AAP.
"He obviously got the better of me that day but I was in a team that was going backwards.
"It still gets talked about but from my point of view that game is forgotten.
"Everyone's dream is to be at the pinnacle of your sport, but I am just trying to nail down a spot here."
Whilst the Reds were helped along nicely by their two-try hero in Hamilton, there's still no guarentee that Davies will start against the Brumbies at Suncorp Stadium on Saturday with Digby Ioane set to return from a knee injury.
"To have that feeling back again (against the Chiefs) was great - when you are injured it is something that you strive for," said Davies.
"But he (Ioane) is coming back so we have to make room for him. If that's at my expense then so be it."
Reds head coach Richard Graham was giving nothing away before making the tough call between Davies and Dom Shipperley for the other wing spot.
"That's the challenge. There are a number of Test wingers in the squad and each of them know if they play well they give themselves an opportunity (to play)," he said.