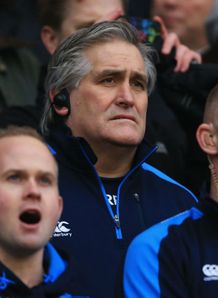 Scottish Rugby Union chief executive Mark Dodson has insisted there are no sticking points as talks continue with Scott Johnson.
Johnson was Scotland's interim head coach during the Six Nations, leading the side to a third-place finish including wins over Italy and Ireland.
A report in the Daily Telegraph suggested that a sticking point was whether Johnson would be named as Director of Rugby and handle player development, but this has been dismissed by Dodson.
"We are still talking to Scott and have been doing so pretty much since the Six Nations ended," said Dodson.
"We said we would sit down at the end of the tournament and talk about the next steps and we are still doing that. The story is just supposition.
"I wouldn't like to be too categorical about anything because Scott and I still have a lot to talk about. The Six Nations are only just finished and this is going to take a certain amount of time to wash through.
"We are very happy with what Scott and Dean did over the whole of the Six Nations period. The talks will take place and we will make an announcement in due course."