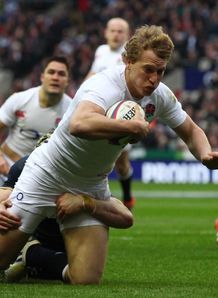 Related links
Also see
Former England coach Brian Ashton believes Billy Twelvetrees can help develop the national side as they recover from losing in Wales.
The Gloucester centre made his debut in the Six Nations against Scotland in the opening game, but was forced to play second fiddle to Brad Barritt and Manu Tuilagi for the remainder of the tournament as England struggled for tries.
Using the style of play adopted by New Zealand, Ashton believes selecting Twelvetrees outside Owen Farrell can open up England's attack as they reassess their strategies moving forward.
"You can see the way that they play the game now. They pick a fly-half like Owen Farrell who sits that bit deeper and kicks for territory and two centres who like to challenge the opposition on the gain-line but do not necessarily think that their first option is to play the ball into the wide open spaces," said Ashton to The Rugby Paper.
"Twelvetrees is a guy who can play fly-half or at No.12 and gives you that option in the middle of the field of another pair of eyes for the No.10.
"I was talking to one of the New Zealand coaches about the All Blacks' way of playing and they said Ma'a Nonu is the eyes of Dan Carter.
"If you play a quick game then it is very difficult for your guy at first receiver to spot what is going on around the field because things are happening so quickly.
"But whoever is stood at No.12 has the opportunity to take a step back and find the time to see what is going on around the field.
"I think that if you have got Twelvetrees, who has played at 10 as well as at 12, then he has got the skill to fulfil that role - he has got the distribution, a good kicking game and he brings those varied options to the game ten metres farther out than at fly-half.
"By its very nature of moving that focus of attack ten metres away, it poses different problems for the defence.
"It's going to be a real time for reflection now, not so much the way they approach the set-piece or defence, but the time for reflection is in attack.
"Have we got the right strategy and the right personnel in the right places to be a real threat all over the field?
"At the moment they have a physically confrontational way of playing. They might decide we need to continue with that physical confrontation but add a mental confrontation where they do things that are a bit different and more challenging."