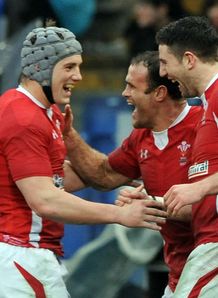 Related links
Also see
Wales continued their climb back up the IRB World Rankings following last Saturday's victory in Rome and Ireland's loss to Scotland in the Six Nations.
The Welsh had slipped to 10th - equalling their lowest ever ranking - before ending an eight-match losing streak with victory over France a fortnight ago, but now sit just under half a rating point below fifth-placed France.
Had Ireland not slipped to defeat at Murrayfield - despite enjoying more than 70 per cent possession - then Wales would have remained seventh.
Ireland's second defeat of the Championship now leaves them just over half a rating point above Samoa and Argentina below them, while back-to-back wins for Scotland mean they are now within a point of the Irish now.
Scotland remain 10th and now have Tonga beneath them after Italy fell one place to 12th on the back of the Welsh defeat. The Azzurri, though, are still more than three rating points above Fiji below them.
England have also strengthened their position as the leading northern hemisphere nation in the rankings following the 23-13 win over France at Twickenham.
They now sit just over four points above France and are gradually closing the deficit to Australia above.
The biggest climbers of the week, though, were Portugal who rose two places to 21st after beating Belgium 18-12 in Lisbon for their first win of the European Nations Cup 2014 Division 1A, a competition which will determine the region's two qualifiers for Rugby World Cup 2015.
Defending champions Georgia have strengthened their position in 17th by beating hosts Russia 23-6 in Sochi, while 18th-ranked Romania increased the cushion over Spain below them after winning their encounter 25-15 in Gijon.
IRB World Rankings:
1 New Zealand 90.08
2 South Africa 86.94
3 Australia 86.87
4 England 85.30
5 France 81.20
6 Wales 80.74
7 Ireland 79.28
8 Samoa 78.71
9 Argentina 78.71
10 Scotland 78.19
11 Tonga 76.10
12 Italy 74.93
13 Fiji 71.52
14 Canada 71.41
15 Japan 70.09
16 USA 68.32
17 Georgia 67.41
18 Romania 64.94
19 Spain 61.13
20 Russia 60.92
21 Portugal 59.38
22 Uruguay 59.37
23 Belgium 58.82
24 Namibia 58.45
25 Chile 57.02