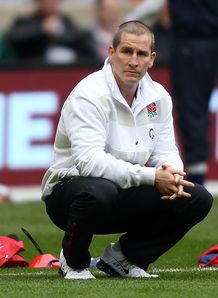 Related links
Teams
England coach Stuart Lancaster defended the character of his side after their narrow defeat against South Africa at Twickenham.
Three penalties from substitute Owen Farrell saw England cut South Africa's 6-16 lead to just one point with time ticking away, but missed opportunities earlier in the match prevented them from victory.
"When you go down 6-16, you ask whether you have the character to pull yourselves back into the game and have a chance of winning, which we did. You can't question the character of this England side - you might have been able to do so in the past, but not now," said Lancaster.
"It was difficult conditions, there was a lot of kicking - but generally our accuracy at the breakdown, our intent to play, kicking game, set-piece were all good and a step up from last week and not to get the result has left us all disappointed. I've got a very frustrated changing room. "
"With conditions as they were today, you have to take your points. We matched their physicality and came out on top in that area, but they kicked better than we did - Ruan Pienaar especially."
England were booed when Chris Robshaw elected to go for the posts with time running out, rather than opting for a line-out and a chance to win the match with a try.
"We'll sit down with the generals and review all the decisions, not just the one at the end. Some we get right and some we don't and that is part of any side's development. The purpose of having a captain is that the players back his decisions," added Lancaster.
"We're pleased with our breakdown work and physicality and it was a big step up on the Australia game. We're going to bottle the frustration because we've got the All Blacks around the corner."
"There's enough there from a young side to give us the confidence that we will win long-term."